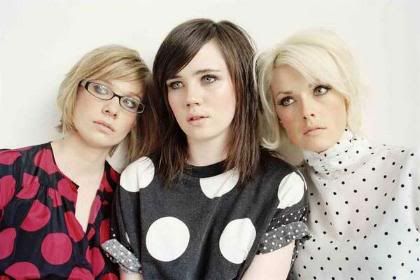 If you're a frequent reader of this blog, then you sure know how much I love these three lovely girls. They're like the saviors of pop, frozen in a time machine from the sixties, and released in time to save the world with their doo-wop melodies.
So apparently, I'm loving this new remix of Judy. It gave a new strong, headbanging beat, along with some nice little touches. All of those elements completely renewed my interest in the song, now that I have a more upbeat version to listen to other than the album one, which is pretty worn out by now. What's even better about the remix is that it doesn't go too electro and modern, so the whole '60s vibe is still visible. If you like The Pipettes, this is a must have. Have fun.

The Pipettes - Judy (Blue States Remix)

*Off-topic: Somebody told me Hype Machine didn't accept my blog. I'm a little saddened by that. There goes my plan for a more mainstream indie approach. It's okay, it's about time I stopped convincing those snobs just to prove something, and concentrate on raising a community for music lovers here.
Just a note, I will sort out the promotional emails this weekend, and plan to post the ones I like. So keep sending stuff you think I would be interested in. Not all sent will make it to my blog, but I will be sure to give them all a fair chance.