It's Christmas Day! Jollywoohoo!

So yes, I finally got it done. Consider that an accomplishment. Here I proudly present: Zeon's Mixtape Vol. 3! I save the best for last, so this collection of songs consist of my favorite, traditional and original, from most of my favorite artists & bands of different types of music, all served for one purpose: making you feel festive & all warm up inside, and appreciating the spirit at this time of the year. You can tell I've put quite much effort into making this, so I hope you will enjoy the mix as much as I do.
So what did you do last night? Hope it all went great. Me, I had a good time, had a little feast with my family, then watched The Night Before Christmas, and finally listened to Sufjan Stevens' 'Songs For Christmas' box set, which was awesome! Today, I planned to listen again to the seasonal cds of Sarah McLachlan, Aimee Mann, Diana Krall, that Ally McBeal cd and more! I can only take them out once a year, you know! The rest of the week, I'll be spending time writing year-end lists and listening to records I should have listened to a long time ago but didn't because of the lack of time etc. I want to make sure I won't miss out on anything good for my list. So it's like work and play merged into one.

Well, I'll babble no more and leave you with the tracklist. Download them fast, there's not much time left. Hope this mixtape will be the essential soundtrack to your holidays! Thanks for those loyal readers who visit the blog throughout the whole year. If I haven't stopped by your blog and said Merry Christmas, it's probably because I'm too busy/lazy...but I wish you all the best. Okay, here we go...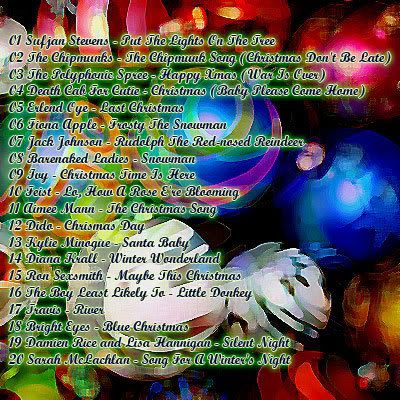 01 Sufjan Stevens - Put The Lights On The Tree
02 The Chipmunks - The Chipmunk Song (Christmas Don't Be Late)
03 The Polyphonic Spree - Happy Xmas (War Is Over)
04 Death Cab For Cutie - Christmas (Baby Please Come Home)
05 Erlend Oye - Last Christmas
06 Fiona Apple - Frosty The Snowman
07 Jack Johnson - Rudolph The Red-nosed Reindeer
08 Barenaked Ladies - Snowman
09 Ivy - Christmas Time Is Here
10 Feist - Lo, How A Rose E're Blooming
11 Aimee Mann - The Christmas Song
12 Dido - Chrismas Day
13 Kylie Minogue - Santa Baby
14 Diana Krall - Winter Wonderland
15 Ron Sexsmith - Maybe This Christmas
16 The Boy Least Likely To - Little Donkey
17 Travis - River
18 Bright Eyes - Blue Christmas
19 Damien Rice and Lisa Hannigan - Silent Night.mp3
20 Sarah McLachlan - Song For A Winter's Night


Save your time and download the whole mixtape in a zipped file.

That's all for now. Comment if you'd like to let me know what you think about the mix...Be on the look out for my getting listy! There will be a New Year-themed mini mix, too.
P.S.: R.I.P. James Brown.