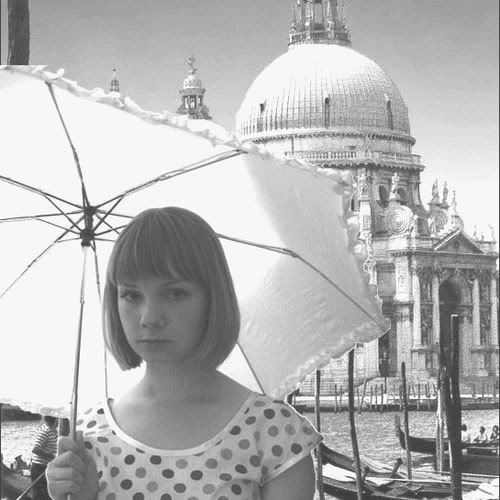 What we see here is not a scan of a grainy, vintage photo from someone's grandma's album. She's Cloetta Paris, the italo disco princess from Stockholm, Sweden.

There's little known about Cloetta Paris for now. The only source of information is her MySpace and she doesn't talk much there. We don't know if Cloetta Paris is actually her real name (in which case, it'd be pretty cool), whether Cloetta Paris is just her or many people, whether she's unsigned or with a label. Well, it's only a matter of time.
Last year, I was quite infatuated with Sally Shapiro, and the resurrection of a short-lived genre long gone that I knew nothing about, italo disco. And now, Cloetta continues to bring the past into the presence.
'I Miss You Someone' is what I'd expect from her, cheery disco beats against melancholic, lonesome girly voice singing sad sad lyrics. I'm not sure if this is just a demo or not, but for an all-new act like her, it sounds exceptionally good and melodic. When listening to the song, my mind painted a picture of this girl who sits in the backseat of a black cab, looking outside, where the city's basked in night lights, and quietly lets out a little sigh (this will work for the music video!). The chorus goes like this: "Take me back home, to Paris and Rome. I miss you someone...". It's just so good that I couldn't get enough of it. 'I Miss You Someone' is one of the best songs of 2007. Period. I highly recommend it to those who loves pop, synth-pops, italo disco, or just plain beautiful music. If you happen to love it (which you should), then check out the rest, they may not be as good as 'I Miss You Someone', but enough to hold your attention until there's more to be announced.


Cloetta Paris - I Miss You Someone (highly rec'd)

Bonus:
Cloetta Paris - Broken Heart Tango
Cloetta Paris - St. Elmo's Fire (Cover)
Cloetta Paris - Save Your Love


Visit Cloetta Paris's MySpace
And if you like Cloetta, you really should also listen to Sally Shapiro.